HEADS UP/CONTENT WARNING
One of the films in this marathon makes several explicit references to suicide that some audiences may find disturbing and/or troublesome. If you decide to watch The Virgin Suicides, please keep this in mind for your well-being if needed. If you or someone you know may need help, please click on this link for a list of resources.
Any requests? Fill out the form here!
If you do not wish to read the entire post, here is the ranking as a tier list (made using TierMaker).
A+ (THE BEST): The Virgin Suicides, Lost in Translation
A/A- (EXCELLENT): Somewhere
B+/B (SOLID): Marie Antionette, On the Rocks, The Beguiled, A Very Murray Christmas
B-/C+ (FAIRLY DECENT): The Bling Ring
Recommended Films to Watch First: Marie Antionette, On the Rocks, Lost in Translation
---
A 21st Century Auteur
Sofia Coppola was first known to many as the daughter of acclaimed director Francis Ford Coppola, in whose films she made frequent appearances. Most notably, her performance in her father's The Godfather, Part III (1990) was critically panned, and she "won" two Golden Raspberry Awards for Worst New Star and Worst Supporting Actress. Since then, she would end her acting career and transform herself into a successful filmmaker.
Being one of the few women to win prestigious accolades such as the Oscar for Best Original Screenplay and the Best Director Award at the Cannes Film Festival, Coppola established herself as a bold, Hollywood writer-director.
As someone who has been meaning to dive deeper into the works of acclaimed modern directors – and as someone who wanted to watch Lost in Translation at some point – I've been looking forward to finally checking out Coppola's films, and I am pleased to say that I was not at all disappointed.
An auteur, upon immediately searching for the term on Google, is "a filmmaker whose personal influence and artistic control over a movie are so great that the filmmaker is regarded as the author of the movie," and from watching her movies, I can confidently say that this accurately describes Coppola. This is because her films can be easily distinguished by their amazing soundtracks (I especially love the film score for The Virgin Suicides), masterful uses of "show don't tell", commentary on gender roles and sexism, and most notably, the exploration of loneliness and ennui, typically among well-to-do folks who seemingly "have it all".
However, the latter of these descriptions, while positively received by most critics, have garnered Coppola a great deal of controversy. Specifically, she has been criticized for focusing too strongly on the matters of the wealthy, racially insensitive depictions of non-white people, and even "whitewashing" away characters of color from adapted works. While these are all valid criticisms of which I also take issue, I can't say that these have deterred me from her watching her films in any way, and that is because Coppola is not the only Hollywood filmmaker whose works are guilty of these issues.
I don't want to spend too much time talking about this, but to me, I don't think it would be fair to individualize, say, issues of classism and racism to specific Hollywood directors when truthfully, these issues (and more) are deeply rooted in and intertwined with the nature of the Western film industry as a whole. I won't go into too much detail about this because, frankly, that would take quite some time and research. I just want to watch movies.
Long story short, though, I have very low expectations for Hollywood in general when it comes to the representation of underrepresented groups in film and in addressing the –isms and the –phobias. I do not expect, for example, Martin Scorsese to give nuanced commentary on misogyny in Goodfellas. I am by no means defending any of the issues with Hollywood films. Once again, I think the criticisms are valid and worth exploring, and I do hope that (1) these filmmakers learn from their mistakes and (2) there can be more opportunities for aspiring filmmakers from underrepresented groups in Hollywood (even though I don't necessarily think this will end all the issues with Hollywood – must I bring up Tyler Perry?).
Alright, cool! Let's move on!
Ennui – Ooh Wee!
As I said earlier, I was not at all disappointed with Coppola's filmography. For the most part, her films were enjoyable to watch, and they were quite thought-provoking. It may be broad and cliché when I say this, but these are two of the most important qualities I seek in any movie, regardless of quality.
If there were one theme that most effectively encompasses Coppola's films, it would be that of existential dread. Most of her protagonists, to some degree, confront the meaning, purpose, and value of their lives, and their stories heavily revolve around this confrontation. There is a uniquely immersive approach to how Coppola explores existentialism, and this is what distinguishes her from her contemporaries.
It is for this reason that I am able to sympathize and empathize with many of Coppola's characters, despite the fact that I cannot relate to most of their specific experiences. For example, I am neither as wealthy nor as famous as Bill Murray's character in Lost in Translation, but it strongly resonated with me when he said, "The more you know who you are and what you want, the less you let things upset you." Moments like these, in my opinion, point to the importance of emotional depth and successful portrayals of pieces of the universal human experience, an importance that Coppola has been mastering since her debut feature film.
With all that being said, and because I didn't expect to write this long of an introduction for an eight-movie marathon, I highly recommend giving Coppola's films a shot (you can skip The Bling Ring, though, if teen heist films are not your cup of tea).
---
And Awaaaaayyy We Go!
There are only 8 movies in this marathon, so I don't really think I need to write out the top and bottom 3 or 5 of them. As the kids would say, #sorrynotsorry.
---
8. (THE WORST) The Bling Ring (2013)
TL;DR Review: The idea of a comedic take on the real-life account of teenaged, Hollywood-obsessed burglars sounds fascinating on paper, but unfortunately, The Bling Ring does not meet its full potential as a critique on celebrity obsession and materialism.
Alternate TL;DR Review:
To this day, I still play this song quite often…
Rotten Tomatoes Score: 59%
Metascore: 66/100
My Grade: C+
7. A Very Murray Christmas (2015)
TL;DR Review: Bill Murray leads quite the charming, star-studded and comedic tribute to the holiday variety special.
Rotten Tomatoes Score: 68%
Metascore: N/A
My Grade: B
6. The Beguiled (2017)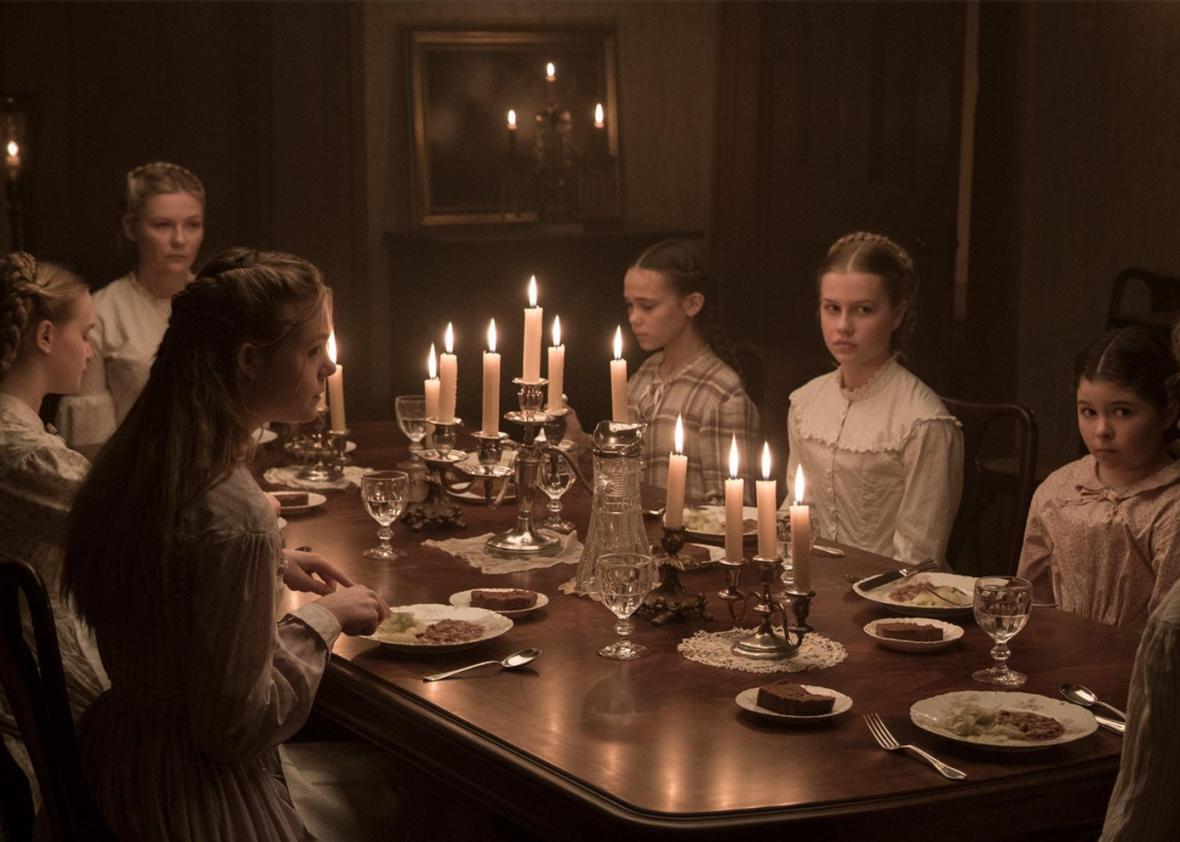 TL;DR Review: The Beguiled is a well-stylized story that most boldly displays Sofia Coppola's feminist messages. The film's pacing is quite slow at first, but for the most part, it pays off nicely in the end.
Rotten Tomatoes Score: 79%
Metascore: 77/100
My Grade: B+
5. On the Rocks (2020)
TL;DR Review: On the Rocks is a slight subversion of the romantic comedy-drama that fits quite nicely into Sofia Coppola's brand of exploring ennui and alienation. Also, Bill Murray.
Rotten Tomatoes Score: 86%
Metascore: 73/100
My Grade: B+
4. Marie Antionette (2006)
TL;DR Review: Marie Antoinette is by no means a historically accurate or honest portrayal of its namesake; rather, it's an American coming-of-age story that is effectively costumed as a period drama set in 18th Century France.
Rotten Tomatoes Score: 57%
Metascore: 65/100
My Grade: B+
3. Somewhere (2010)
TL;DR Review: In her most effective display of the "show don't tell" technique, Sofia Coppola invites the audience to not just witness the existential dread of a Hollywood celebrity, but also to experience it along with him.
Alternate TL;DR Review:
Rotten Tomatoes Score: 71%
Metascore: 67/100
My Grade: A-
2. Lost in Translation (2003)
TL;DR Review: Boasting strong performances from its lead characters, Lost in Translation presents an impactful depiction of forging human connection in a backdrop of constant alienation.
Rotten Tomatoes Score: 95%
Metascore: 89/100
My Grade: A+
1. (THE BEST) The Virgin Suicides (1999)
TL;DR Review: The Virgin Suicides is a melodrama that, through its exploration of the dark, enigmatic story of five sisters, carefully examines the topics of adolescence, gender dynamics, and the duality of dreams and reality. Truly, this movie is one of the greatest teen dramas ever made.
Rotten Tomatoes Score: 77%
Metascore: 76/100
My Grade: A+